| | | |
| --- | --- | --- |
| " | They've taught the best and the worst, now these two heroic mentors duke it out! | " |
Obi-Wan Kenobi VS Kakashi is the 127th episode of DEATH BATTLE!, featuring Obi-Wan Kenobi from the Star Wars series and Kakashi Hatake from the Naruto series in a battle between pseudo-magic wielding teachers. Obi-Wan was voiced by Steven Kelly and Kakashi was voiced by Nicholas Andrew Louie.
Interlude
(*Cues: Wiz & Boomstick - Brandon Yates*)
(We cut to Wiz and Boomstick)
Wiz: Heroes come in many different forms. Some are heroic protectors of justice, and others are the teachers who guide us toward a better future.
Boomstick: And sometimes, they're both! Like Obi-Wan Kenobi, the Jedi Master of the Galactic Republic from Star Wars.
Wiz: And Kakashi Hatake, the sixth Hokage of the Hidden Leaf and mentor to Naruto.
(We cut to Wiz and Boomstick)
Boomstick: He's Wiz and I'm Boomstick.
Wiz: And it's our job to analyze their weapons, armor, and skills to find out who would win... a Death Battle.
Obi-Wan Kenobi
Wiz: On the distant planet of Tatooine lived an elderly hermit known as Old Ben, his heart heavy with regret and stories to tell.
Boomstick: 'Cuz he wasn't just some crazy old coot. He used to be a badass samurai space wizard!
Wiz: Obi-Wan Kenobi.
Boomstick: "Now that's a name I've not heard in a long time." Ah, I love a good Obi-One liner.
Obi-Wan: Hello there.
Wiz: As a child, Kenobi was inducted into the Jedi Order, warrior monks training in the Force over the course of their lives.
Boomstick: And he was trained by the one and only Liam Neeson! Well, until he was murdered by Space Satan.
Wiz: Though, not before they discovered a child of prophecy, and Obi-Wan's future pupil, Anakin Skywalker.
Boomstick: I have a bad feeling about this.
Wiz: Eventually, Kenobi rose to the top ranks of the order, becoming a Jedi Master. Just in time for two back-to-back galactic wars!
Boomstick: Sounds like fun when you've got his classic lightsaber, which can cut through basically anything with enough... "force". Get it?
Wiz: Including the duranium armor of General Grievous, which can tank volleys from Starfighter cannons.
Boomstick: It's an elegant weapon for a more civilized age. Cause, you know, mutilating and decapitating people left and right is way more honorable.
Wiz: Kenobi has studied seven forms of lightsaber combat, and is the undisputed master of form three, Soresu.
Boomstick: Which is all about defense, and waiting for your opponent to make a mistake to land a finishing blow. He's so skilled, he can beat Sith Lords in just seconds.
Wiz: But Kenobi's most powerful weapon, or better put, ally, is the Force, an energy that exists almost everywhere. Jedi can tap into the Force to manipulate the world around them.
(We cut to Wiz and Boomstick)
Boomstick: Like throwin' stuff around with telekinesis, everything from pulling down an airship, to crushing someone else's organs.
Wiz: While Kenobi prefers a more direct dueling approach, his power in the Force is nothing to scoff at. Many years after his time, he was explicitly compared to Jedi Knight Kyp Durron, who could move a micro singularity with a thought.
Boomstick: Speaking of thoughts, he can mess with yours with the Jedi Mind Trick. Like, if he wanted to, he could get Jizz stuck in your head.
Wiz: Boomstick! Gross!
Boomstick: What? It's a type of music. Those aliens at Jabba's palace were playin' it. They're called Jizz-wailers.
Wiz: Huh, I bet Disney was real happy to learn about that one. Kenobi's force abilities also include protective fields, illusions, and Tutaminis, a technique for absorbing and redirecting energy attacks.
Boomstick: Even without a lightsaber! Oh, also, uh, he can see the future.
Wiz: To a certain extent. Jedi can glimpse the distant future through focused meditation. In battle, the Force can guide their movements, predicting danger in advance.
Boomstick: Kinda like a space Spidey-Sense.
Wiz: Exactly. With their incredible skill in the Force, Kenobi and Skywalker became a formidable duo.
Boomstick: Obi-Wan ranked up even more and became a general. He's a badass space pilot who can dogfight at near lightspeed.
Wiz: According to an official novel, he can even react down to the nanosecond.
Popup: Numerous Force users have performed similar lightspeed/nanosecond feats, including Luke Skywalker, Jax Pavan, Sarasu Taalon, and Vestara Khai.
Boomstick: I dunno, Wiz. I've seen the movies, and Jedi have never done shit like that.
Wiz: Well, other mediums have greatly expanded upon Jedi capabilities. Some are even powerful enough to hold together entire planets.
Popup: While there are two main Star Wars continuities, there are little to no differences in the powers displayed by Jedi and the Force in both of them.
Boomstick: Obi-Wan HAS fought an army while blindfolded, endured a blast from a Starfighter, and battled the Sith, Anakin Sky...uh, I mean, Darth Vader. That's when he had to break out his most OP move of all: The High Ground! By standing just a few feet above an opponent, Obi-Wan gains enormous extra powerfulness. He even warns you about it.
Obi-Wan: It's over, Anakin! I have the high ground!
Boomstick: It's foolproof!
Wiz: Uh, not exactly. Remember how Darth Maul had the high ground way back when, against Obi-Wan himself?
Boomstick: Where do you think he learned such an awesome move? Only Sith Satan could think of something so deadly.
Wiz: Uh-huh... Either way, Obi-Wan sadly failed where it mattered most.
Boomstick: Ooh, that's definitely gonna be an "F" on the ol' Jedi report card. See me after class for an epic boss battle on a lava planet.
Wiz: But defeating his fallen student is no small feat. Anakin could telekinetically move starships fast enough to intercept hypersonic missiles. Based on the scale of this Dreadnought and the distance it moved, this would need an energy over twenty-one megatons of TNT.
Boomstick: And that was when he was a newbie! He basically became the most powerful Jedi and Sith in space wizard history.
Wiz: However, Kenobi is extremely dedicated to his strict Jedi code, potentially to a fault. It's debatable if he ever learned from this mistake. After all, he told Luke Skywalker that the only way to ever become a Jedi would be to kill his own father, and he even tried to trick him into never figuring out that fact in the first place.
Boomstick: Dick move, Obi. Dick move.
Wiz: But even in his worst moments, Obi-Wan Kenobi always fought for the sake of others. He would battle his dark apprentice one last time, sacrificing his life in service of a new hope.
Boomstick: And then he became a ghoooost!
Wiz: Don't ruin the moment.
Obi-Wan: (To Darth Vader) Strike me down, I shall become more powerful than you can possibly imagine.
Kakashi Hatake
Wiz: Shinobi, Hokage, mentor, friend...
Boomstick: And porn addict!
Wiz: Kakashi Hatake is all of these, and generally a pretty relaxed guy for someone raised as a ninja assassin.
Boomstick: You wouldn't know it at first glance that his childhood sucked balls. Like when his dad committed seppuku, because he saved his friends instead of prioritizing a mission.
Wiz: In the shadow of disgrace, this cruel methodology of the ninja and his father's great mistake tore young Kakashi apart.
Boomstick: Reminds me of my dad.
Wiz: What was his great mistake?
Boomstick: He called it, "Boomstick."
Wiz: Oh. Ahem, despite his hardship, Kakashi proved himself a prodigy. Becoming a Genin at age five, a Chunin at age six, and a Jonin at age twelve.
Boomstick: For those of us who don't speak anime, he might as well have been doing ninja rocket science in the womb.
Wiz: He quickly mastered the use of chakra, a form of spiritual energy within all individuals that ninja can shape and weaponize. This is ninjutsu.
Boomstick: He can walk up walls, heal wounds, and even make clones of himself. Plus, he's a master of taijutsu, AKA punchin' people. But his deadliest technique of all, is the One Thousand Years of Death!
Kakashi: Leaf Village Secret Finger Jutsu...
Naruto: (screams)
Kakashi: A Thousand Years of Death!
Boomstick: Oh-ho-ho! That's gonna get you on a list. Naruto's like, twelve!
Wiz: Chakra can also be molded into nature itself, and Kakashi can use it for numerous elemental attacks.
Boomstick: Sure, he can shoot fireballs or dunk you with water, but his favorite is lightning! Lightning zaps, lightning clones, lightning... dogs?! That's awesome! How do I get one of those?
Wiz: He's even invented a lightning ninjutsu technique: the Chidori. By gathering electric chakra into his hand or a kunai, he becomes capable of piercing just about anything.
Boomstick: Even a bolt of actual lightning! Take that, nature! Man triumphs over you once again!
Wiz: This is where Kakashi's own Chidori got its moniker: Raikiri, Lighting Cutter.
Boomstick: Ooh, now I know what I'm gonna name my lighting dog!
Wiz: The Chidori does have a downside, though. It's speed and power are so great, they give the user tunnel vision, and make the attack generally uncontrollable.
Boomstick: Basically, once you kick on the gas, you're zoomin' straight ahead, no matter what happens. Although, Kakashi "eyed" just the thing to fix it.
Popup: Years later, Kakashi would eventually develop the Purple Electricity jutsu, which was functionally similar to the Chidori, but did not require the Sharingan to operate
Wiz: Long story short, he was drafted into a war alongside his friends Rin and Obito.
Boomstick: Shit went down and Kakashi lost an eye, so Obito handed over one of his when he decided to sacrifice his life. Holy shit! Why don't I have any friends like that? Wiz, gimme your eye.
Wiz: No.
Boomstick: I'll give it back, I promise.
Wiz: Obito's eye wasn't an ordinary eye. He was an Uchiha, and this was a Sharingan.
Boomstick: With his Sharingan, Kakashi not only got some control over his Chidori, but he can see a person's chakra, predict their movements, dupe your brain with genjutsu, and even copy jutsu techniques. He's such a filthy plagiarist that he's stolen over one thousand jutsus in fourteen years.
Popup: Kakashi must be physically capable of a jutsu in order to copy it. For example, he cannot copy genetic Kekkei Genkai, such as Haku's Ice Release.
Wiz: Although, since Kakashi is not an Uchiha, he can't exactly turn the Sharingan off.
Boomstick: And then Rin jumped in front of his Raikiri and kicked the bucket too. Man, this guy can't catch a break.
(cut to Wiz and Boomstick)
Wiz: And yet, unimaginable loss is exactly what is needed to unlock the Sharingan's next stage: the Mangekyō Sharingan.
Boomstick: Aw, yeah! With the mankey eye, he can cast Kamui, basically sucking objects or people into another dimension. Sure, it uses up a lot of his chakra pool, but it's a pretty clever instant win move.
Wiz: The concept of trauma granting new power fascinates me. (he holds up a detonator) So, I've stolen Boomstick's entire beer hoard, and placed it in a secure room with two hundred tons of TNT.
Boomstick: (laughs) Wait, what?
(Wiz pushes the button, there is a massive explosion)
Boomstick: NOOOO! You monster! What have you done?!
(Wiz takes out a clipboard and pencil)
Wiz: Do you feel anything?
Boomstick: Just thirsty, sober, and... PUNCHY.
Wiz: Pu-punchy?
(Boomstick clocks him in the face, he collapses, and Boomstick then grabs some money from his pocket)
Boomstick: Next round's on Wiz! Well, for Kakashi, everything sort of worked out in the end. He became a teacher, and this new generation of ninja helped him learn that his dad was right all along. Friends do come first. Unless they blow up all your beer! (to Wiz) Wake up!
Wiz: (groans) He's held his own against top tier ninja-like Zabuza, Pain, and even his old friend Obito.
Boomstick: Back from the dead and evil now, because why not? Kakashi can definitely compare to fellow ninja master Jiraiya, who can blow up mountains. That takes over eighteen megatons of TNT.
Wiz: And he's caught and sliced lightning. Based on the distance it moved before he caught it, he must have reacted within seventy microseconds, and moved over two thousand times the speed of sound.
Boomstick: Sounds like ninja president material to me. Not too shabby for a guy who likes to read porn in public. Did I forget to mention that? Because he totally does.
Wiz: Kakashi of the Sharingan is nothing if not full of surprises.
Kakashi: Right now, all I can give you... is just death.
Death Battle
(Cues: Force and Lightning - Therewolf Media)
We see Obi-Wan's ship fall from the sky to Naruto's earth and crash lands into the forest of Konohagakure's training area, which startles Kakashi while he is reading his book. Obi-Wan walks out of the crash site, groaning.
Obi-Wan: Another happy landing.
The Jedi Knight notices Kakashi as he lands on a nearby tree, still reading his book.
Obi-Wan: Hello there.
Kakashi: Hold it. You're in Konoha territory. I have some questions if you'll come with me.
Narrowing his eyes and waving his left hand, Obi-Wan uses his Jedi mind trick on the shinobi.
Obi-Wan: You want to go home and keep reading your book.
Kakashi: I want to go home and keep reading my book...
Obi-Wan starts to leave as he believes Kakashi will go home and read his book. However, unbeknownst to him, not only is the Copy Ninja unaffected by the mind trick, he has been angered by the Jedi's action.
Kakashi: ...After I kick your ass!
Kakashi readjusts his headband, revealing his Sharingan, who then throws four kunai at Obi-Wan as the Negotiator deflects them with his robe. Obi-Wan then brings out his lightsaber and readies his fighting stance. The Hero of the Sharingan tosses his book into the air and uses Earth Style ninjutsu.
R4-P17: (screams)
Kakashi's ninjutsu summons an earth wall where Obi-Wan's ship is, launching it away along with R4-P17. The Negotiator charges at the wall and slashes at it, creating a boulder perched on top of the wall as a result. He then uses the Force to push the boulder as Kakashi, who has caught and continued reading his book, dodges by leaning back, just barely dodging the boulder.
Obi-Wan charges forward with his lightsaber and repeatedly swings at Kakashi, who simply leaps back until the Jedi Force pushes him into a crater in the ground. Obi-Wan approaches the edge of the cliff near the crater.
Obi-Wan: Had enough?
Kakashi gets up, responding to the question.
Kakashi: Well now, you've fallen for the deadliest strategy we ninja know - One Thousand Years of Death.
Shocked, Obi-Wan begs Kakashi to not carry out his action.
Obi-Wan: Don't try it! I have the high groOOOOOOOOOH!
The Jedi knight howls in pain as Kakashi releases the embarrassing and devastating attack on his rear. Obi-Wan swings his blade back only to see the ninja dispel in a cloud of smoke, revealing that it was a shadow clone. He then turns to see the Copy Ninja leaping out of the crater only to find that another clone has grabbed a hold of his leg and pulls him underground.
Obi-Wan struggles to escape as only his head is sticking out of the ground. Kakashi approaches the Jedi Master to taunt him.
Kakashi: I guess I have the high ground.
Obi-Wan: Oh, I don't think so!
The earth begins to shake around the two combatants as Obi-Wan uses the Force to lift himself out of the ground. Kakashi leaps back to avoid the collateral damage from the wind, leaves, and ground. Obi-Wan directs the leaves to keep spinning to conceal his movements.
Kakashi: Most impressive...
Kakashi places his book down and activates his Sharingan.
Kakashi: ... But I see you!
Team 7's leader tosses the book aside as he pinpoints the general's location. He kicks Obi-Wan forward, causing the Jedi knight to drop his lightsaber. As soon as Obi-Wan recovers from the blow, Kakashi closes in with taijutsu, landing several punches before the Jedi dodges him and uses the Force to push him back.
Kakashi: Fire style!
Obi-Wan uses Force Deflection to keep the flames from burning him and redirects the fire away from him making it go behind him. As soon as the flames dissipate, the Jedi gasps as his eyes turn red and he finds himself trapped in one of Kakashi's genjutsus. His surroundings grow dark before hearing the distinctive lightsaber and breathing of his former apprentice, Darth Vader. As the Sith Lord approaches to attack him, the Jedi Master realizes he is in an illusion and clears his head.
Obi-Wan: Be mindful of your thoughts, Obi-Wan. They betray you.
Obi-Wan comes to just as Kakashi is about to impale him with a Lightning Blade. He is able to narrowly avoid the blow and uses the Force to push the ninja back into a tree. He then retrieves his lightsaber and leaps forward just as Kakashi charges up a kunai with lightning.
The two mentors clash in the air multiple times before Obi-Wan is able to knock away Kakashi's kunai. The Shinobi leaps forward to tackle the Jedi General, but Obi-Wan is able to push him off before using the Force to telekinetically bring Kakashi back to him and stabs him in the shoulder with his lightsaber.
However, it proves to be a lightning clone, as the real Kakashi emerges from underground and tries to take advantage of his electrocuted opponent's state by activating Kamui, but Obi-Wan is able to narrowly jump to the side of the portal before it decimates the area around him.
Kakashi then charges up his Lightning Blade to its fullest potential and begins to dash forward just as his Sharingan eye begins to bleed.
Kakashi: Don't give up.
Obi-Wan lowers his lightsaber and places his hand in front of him.
Obi-Wan: Trust in the Force.
Through intense concentration, Obi-Wan uses Shatterpoint to crush Kakashi's Sharingan eye. The Copy Ninja flinches, but doesn't relent and runs faster as the lightning surrounding his hand turns purple. With his eyes still closed, the Jedi Master briefly deactivates his lightsaber and assumes a defensive stance. Just as Kakashi is about to unleash his ultimate attack, Obi-Wan dashes forward just as he turns on his lightsaber.
After the final clash, the lightning in Kakashi's hand begins to disappear. The Copy Ninja begins to choke and the top half of his body falls down, as Obi-Wan's lightsaber has made a clear slice through his torso. Groaning in pain, the Jedi Master holds a hand to his violated rear and shakes his head at his fallen opponent.
Obi-Wan: So uncivilized.
KO!
Results
(We cut to Wiz and Boomstick)
Boomstick: Welp, Kakashi may have been able to beat Obi-Two, but he just couldn't handle Obi-One. Haha, got 'em.
Wiz: Kakashi's wide array of moves certainly kept Kenobi on his toes, but the Jedi's arsenal was far more powerful and versatile then you might think.
Boomstick: Yeah, like how chakra is an internal life energy with a limited supply. But the Force is external and everywhere. Obi-Wan couldn't exactly run out of it, and Kakashi couldn't copy Force techniques. 'Cause, I mean, he's using external force, not internal chakra. Totally different.
Wiz: As for brute power, ninja mountain busting and Anakin's Dreadnought telekinesis were fairly comparable. However, Kenobi matched Anakin's force power well after he had become far stronger than that.
Boomstick: This is the Chosen One we're talkin' about here. Other Jedi have done some crazy stuff, like throwin' a fleet of Star Destroyers out of a solar system in seconds, and stopping a whole planet from going kaboom. Oh, and you know how Obi-Wan tore apart Grevious' armor with his bare hands in Revenge of the Sith?
Wiz: The same armor designed to survive starship cannons. It withstood a blast that annihilated a subterranean city and almost collapsed the surface of a planet.
Boomstick: I seriously doubt Obi is physically strong enough to rip that armor apart. But apparently the Force is.
Popup: Obi-Wan's experience with tutaminis and Sith lightning essentially nullified Kakashi's primary element, and his telekinesis was similar to Pain's gravity manipulation, which nearly killed Kakashi.
Wiz: Even Kamui wasn't a reliable option, since Kenobi's reaction speed was nearly seventy thousand times faster than Kakashi's. More than quick enough to avoid Kamui, especially with his precognition.
Popup: Kakashi's Sharingan precognition relies on analyzing muscle movements, and is generally unable to predict the attacks of someone significantly faster than himself.
Boomstick: But we can hear you shoutin' in the back, "what about Kakashi's dual Mangekyō Sharingan that Obito gave him, and the Perfect Susanoo?"
Wiz: It's difficult to justify granting those to Kakashi at all, because they aren't really his. He can only use them when Obito's spirit briefly possessed his body.
Popup: Obi-Wan's previously established mental barriers and experience with telepathy means he could likely escape genjutsu illusions.
Boomstick: Even if he did, the results probably wouldn't change much. Remember that Kyp guy who moved a black hole? Yeah, he was directly compared to Obi-Wan by Luke himself.
Wiz: If we're to take that at face value, this means Kenobi could theoretically call upon the Force to exert nearly fourteen petatons of TNT.
Boomstick: Way more than what Kakashi was packin'. And even then, Obi-Wan could just crush his organs. Shit, man, don't mess around with Jedi!
Wiz: I know it can seem strange to hear about Jedi being this powerful and deadly, but think of it this way. Part of the reason why the Jedi Code is so strict is because of this immense power at their fingertips. The code tries to keep them, uh, civilized in a way.
(We cut to Wiz and Boomstick)
Boomstick: But when you enter a Death Battle, throw those morals out the window. We're lookin' for who wins a no holds barred fight to the death.
Wiz: Kakashi had many impressive tools, tricks, and techniques. But Kenobi's brilliant speed, overwhelming Force, and greater level of power won this bout.
Boomstick: In the end, Obi-Won.
Wiz: The winner is Obi-Wan Kenobi.
Obi-Wan: From a certain point-of-view.
Original Track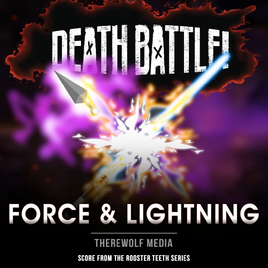 The track for this fight is "Force & Lightning" by Werewolf Therewolf. The track itself is fast-paced coupled with dramatic violins, rock guitars and the shamisen, the latter two of which is heavily utilized in the Naruto anime's soundtrack.
The title is a reference to the abilities the combatants possess (Obi-Wan's ability to harness the Force, and Kakashi's natural chakra affinity, Lightning). It could also be a play on words on Force Lightning, an ability used by Force users in Star Wars.
The track cover is Obi-Wan's lightsaber crossed with a ninja kunai igniting purple lightning sparks, while additional golden sparks are seen behind their weaponry.
Trivia
The connections between Obi-Wan and Kakashi are that they are both snarky, modest, and intelligent mentors of the main protagonist of the series (Luke Skywalker and Naruto Uzumaki, respectively). Both were also trained at a young age to learn how to use spiritual energy. They had masters (Qui-Gon Jinn and Minato Namikaze, respectively) who died in battle. Both had students who turned evil but later redeemed themselves (Anakin Skywalker and Sasuke Uchiha, respectively). They also possess similar arsenals/powers; both have a weapon known for its ability to cut nearly anything, (Lightsaber and the Chidori respectively), and can draw on naturally occurring energy in battle (the Force and chakra, respectively). They also carried out leadership positions in big scale conflicts of their respective universes (Obi Wan was a general during the Clone Wars while Kakashi, as the Third Division Commander, led Konoha's troops during the Fourth Shinobi World War).

Ironically, their students have shown up in previous battles, and while the main protagonists they taught won their battles, both their redeemed students lost their battles.

The episode's release date is May 4, 2020, which is widely recognized as Star Wars day. It also aired the same day as the series finale of Star Wars: The Clone Wars.
This is the fourth "Disney vs Shueisha" themed Death Battle, after Android 18 VS Captain Marvel, Carnage VS Lucy, and Genos VS War Machine.

This is the first battle to have a Disney character who is not from Marvel to fight a Shueisha character.
This is the second battle where the Disney character won, after Genos VS War Machine.

This is the eighth Community Death Battle that became an official episode, after Black Panther VS Batman, Ultron VS Sigma, Johnny Cage VS Captain Falcon, Dragonzord VS Mechagodzilla, Deadpool VS Mask, All Might VS Might Guy and Goro VS Machamp, and with the next four being Danny Phantom VS American Dragon Jake Long, She-Ra VS Wonder Woman, Zuko VS Shoto Todoroki and Winter Soldier VS Red Hood.
This is the third Mentor themed Death Battle, after Roshi VS Jiraiya and All Might VS Might Guy.

This is, however, the first one to feature a non-anime character.

It is also the first one to have the non-anime character win.

This is the second episode to be animated via Source Filmmaker (SFM), after Ganondorf VS Dracula.
This is the fourth episode with a clip after the winner's name is stated, but before the credits, after He-Man VS Lion-O, Joker VS Sweet Tooth and Ryu VS Jin.
There are multiple typos in the episode.

During Obi-Wan's rundown, Qui-Gon Jinn is misspelled as "Qui-Gon Jin" in the Background section. In the Arsenal section, Telekinesis is misspelled as "Telekenisis" and Vaapad is misspelled as "Vapaad".
During Kakashi's rundown, Shinobi is misspelled as "Shinbi" in the Feats section.
During a popup in the Results, Kakashi is misspelled as "Kakahi".

There are multiple allusions to other Star Wars media during the fight.

In the beginning of the fight, Obi-Wan took a fighting stance similar to the one he used against General Grevious in Revenge of the Sith.
Obi-Wan uses Force Deflection to redirect Kakashi's Fire Style Jutsu, he used a similar tactic in his battle against Durge in the Star Wars: Clone Wars animated series.
When Kakashi gets sliced in half by Obi-Wan with his lightsaber, it is similar to how the latter does the same to Darth Maul in The Phantom Menace.
Kakashi references Darth Vader's "Most impressive" line from The Empire Strikes Back.
Community content is available under
CC-BY-SA
unless otherwise noted.