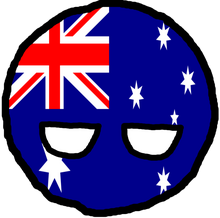 I am the representation of Australia and a dumb nerd on the internet. I don't want to tell you much about me other than that I am Male and from Australia. I like Death Battle, Polandball, memes, Nintendo, Star Wars and Shonen Anime.
AnAustralianPerson
> Claims to have the powers of all Australians and Australian animals.
Powers and Weapons
Venomous spider fangs and venomous platypus thumbs.
Large Kookaburra wings for flight.
Earth, Sand, Mud and Metal Bending
Leg strength of 10 kangaroos
Superhuman strength, speed and durability
Dual-wield revolvers that fire rounds filled with his venom.
His venom is strong enough to make a demigod feel tired.
True Australian Form
Accessed by singing the chorus of Land Down Under by Men At Work aloud.
50 times stronger than base form.
Loses animal powers, but can still fly.
Weather Manipulation (can you hear the thunder?)
Can now bend Fire, Lava and Lightning.
Dual-Bending Cannon (Large beam made from bendable Earth and Fire powers)
ATB (Aussie Tsar Bomba, last resort projectile that drains the rest of the TAF's stamina)
Feats
Defeated Ryu in Hand-to-Hand combat in base form.
Listened to an old Justin Bieber album without having my eardrums destroyed.
Got crushed by a 40,000 ton kaiju in TA form and walked away unharmed.
Survived 6,000 MT Nuke in TA form.
ATB powerful enough to bust hole through asteroid 1/20th the size of Earth.
My favorite Fights
Leon Kennedy vs Frank West (Favourite 2D Fight)
Obi-Wan Kenobi vs Kakashi (Favourite 3D Fight)
Yoshi vs Riptor
Kratos vs Spawn
Both Mario vs Sonic fights
Luke Skywalker vs Harry Potter
Master Chief vs Doomguy
Goku vs Superman 1
He-Man vs Lion-O
Terminator vs Robocop
Luigi vs Tails
Godzilla vs Gamera
Deadpool vs Deathstroke
Chuck Norris vs Segata Sanshiro
Donkey Kong vs Knuckles
Mega Man vs Astro Boy
Dante vs Bayonetta
Joker vs Sweet Tooth
Meta vs Carolina
Ken vs Terry
Hulk vs Doomsday
Deadpool vs Pinkie Pie
Scrooge McDuck vs Shovel Knight
Power Rangers vs Voltron
Balrog vs TJ Combo
Smokey Bear vs McGruff the Crime Dog
Naruto vs Ichigo
Sephiroth vs Vergil
Jotaro vs Kenshiro
Crash vs Spyro
Ryu vs Jin
Samurai Jack vs Afro Samurai
Optimus Prime vs Gundam
Roshi vs Jiraiya
Thanos vs Darkseid
Wario vs King Dedede
Johnny Cage vs Captain Falcon
Aang vs Edward Elric
Dragonzord vs Mechagodzilla
Ganondorf vs Dracula
Mob vs Tatsumaki
All Might vs Might Guy
Leonardo vs Red Ranger Jason
Goro vs Machamp
Cable vs Booster Gold
Danny Phantom vs Jake Long
Community content is available under
CC-BY-SA
unless otherwise noted.